I'm stealing this from COPP....Thanks to Crimsonghosts343 for starting this topic over there.
So many people love fakes (I myself especially love fakes). But not many requesters know the process/art of faking. Some like to complain that the faker did a terrible job on their fake and demand super high quality fakes. The truth is that it's all in the headshot. The quality of the headshot is what dictates the quality of the fake. It makes the fakers job so much easier when requesters provide hi-res, clear headshots. What can be constituted as hi-res? Well, there are a number of factors.
(For those of you who are visual learners, rather than read through this piece of text, skip down to the bottom for examples of good headshots and bad headshots)
1. Resolution: Hence the name Hi-res. A headshot that one would know for sure is hi-res if it exceeds three digits in the pixel count. How do you tell the pixel count? Well if you're looking at a pic on the internet, right click the picture and hit the 'view image' button. At the top of your browser there should be the dimensions in paranthesis. (I.e. 1200x1689 pixels) If the pic is on your hard drive, right click the pic, go 'properties', click on the tab 'Details' and it'll show the dimensions of the picture. Generally, anything around 700 or 800 average is a good quality for faking, given that the picture is a full face pic.
2. Lighting: Another one that many fakers have trouble with is the lighting from the original headshot. I'm kind of sure that there is a trick to reducing the amount of light and flash, but many of us are just amateur fakers (like me). Too much flash on the face or very little light on the face is difficult to work with. Another thing is that natural sunlight and shadow
cum tribute
that is on the face is again, a little bit trickier to make a good, realistic fake. When you use an outdoor pic like that, fakers are limited to outdoor base pics with similar sunlight color and shadow.
3. Head expression: No profile pics please! Profile pics (ones where the side of the girls face is only shown) are the most difficult to headswap with since fakers need to find an exact, exact match in how much of the bodyshots face is shown. Fakers can get away with regular, looking straight at the camera-type pics and not having it exactly match. It's kind of hard to explain, but check out the examples to see. Make sure though that the picture you're requesting is a full face pic, meaning nothing is obscuring it like a hand. Also, make sure that it's not one of those pics where there are two faces really close together and are close to overlapping each other.
Anyways, here's what I think is a good hi-res, high quality headshot. Good lighting, good head expression and good resolution of a full face pic.
porn, nude pics
And here are the fakes that I was able to make with just this headshot.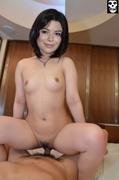 And here are some examples of bad headshots. This first one has very little light, lo-res.
And the corresponding fake that I tried my best on.
And lastly, an example where the faces are too close to each other
Hope some of the requesters read this and find this useful. Hopefully, this better explains why fakers need a good hi-res headshot. Now I'm not saying low quality headshots won't get fakes and that you shouldn't post them, I'm just saying that if you want quality fakes, please post high quality pics.